Lifetime Achievement Award 2017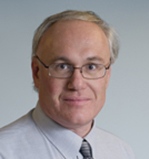 2017 API Lifetime Achievement Award
John Gilbertson, MD

The Association for Pathology Informatics presented its Lifetime Achievement Award to John R. Gilbertson, MD at the 2017 Pathology Informatics Summit in Pittsburgh, PA. The presenter was Dr. Michael J. Becich. 

Dr. Michael J. Becich is a distinguished university professor and currently serves as Chairman of the Department of Biomedical Informatics at the University of Pittsburgh. He holds additional positions, including Associate Vice Chancellor for Informatics in the Health Sciences, Director of the Center for Commercial Application of Healthcare Data, Associate Director for the Cancer Institute, and Associate Director of the Clinical and Translational Science Institute. He has research interests in clinical informatics and its intersection with imaging informatics and bioinformatics. He also works on clinical phenotyping of patients for genomic/personalized medicine and tissue banking informatics with a special emphasis on data sharing. 

Dr. John R. Gilbertson graduated from Duke University's medical school and completed his residency at the University of Pittsburgh. After serving as Director of Pathology Informatics and Associate Chief for Informatics at Massachusetts General Hospital, Dr. Gilbertson moved to the University of Pittsburgh's Department of Biomedical Informatics. 

He is a founding member of API and served as Vice President in 2015, President in 2017, and multiple years on the Meeting Planning Committee and as a Course Co-Director. In addition to serving as a member of DICOM and HL7 working groups, he has also been an advisor to multiple industry groups such as Sunquest Information Systems, mTuitive, Inc., and Inspirata, Inc.

Early on, Dr. Gilbertson envisioned the rise of digital technology and its growing role in pathology through whole-slide imaging. Across multiple interviews, papers, and talks, he championed technological developments in image quality in tandem with improved diagnostic applications and enhanced standardization and validation practices. For Dr. Gilbertson, these advancements were key to empowering pathologists to better address patient needs by making their expertise more accessible to a broader global community through the sharing of whole-slide images.

Dr. Gilbertson's dedication to, and well regarded expertise, in the discipline emerged from decades of research on whole slide imaging, the development of hardware and software as Interscope Co-Founder and CTO, the study of standardization and validation of data, tissue banking, and computational pathology. Furthermore, recognizing the need to continue training subsequent generations, Dr. Gilbertson has been instrumental in advocating for improved and nationally recognized residency and fellowship training programs in pathology informatics in anticipation of these growing trends. We are grateful for his contributions and ongoing work and, thus, honor Dr. John R. Gilbertson with API's 2017 Lifetime Achievement Award.